TEATRACCIONES
9th Espacio Tangente's new scene festival

27th to 30th November 2014


TEATRACCIONES is back at the Espacio Tangente this year. Once again, the Festival aims to show in Burgos city new small and medium format proposals, where the process and the scenic language become part of a continuous research.

The platform is aimed to companies and performers with a permanent creative will – a risk commitment towards national and international artists who have little chances to perform in the city.

Up to 46 proposals have been programmed in the previous eight editions performed by different companies, live artists or musicians with a local, national or international background. Around 4,000 people have visited this festival with a limited audience capacity. The range of works include Collective Creations, New Circus, Documentary Theatre, Objects Theatre, Performance, Working Progresses, Residence Works, Butoh Dance,...

As a local platform, the festival has meant the launch of premiering productions by companies from our city – including this year, which proves the local support of this festival. But we definitely go beyond the local projection, as 50% of our programmed proposals in the last seven editions come from all over the country and the other 35% from other countries. All of which demonstrates the firm bet of the Espacio Tangente to continue as an open platform in continuous search.



THURSDAY NOVEMBER 27th. 21 h

21.00 h
Tickets: 9€ / 7 € Espacio Tangente partners
Season ticket: until November 26 th: 25€
After November 26th: 30€ NO partners / 25€ Espacio Tangente partners


ENDURING FREEDOM
byIMRE THORMANN and LUIS TABUENCA
(Suitzerland/Spain)
Butoh Dance and experimental percussion

Enduring Freedom tells about a way out from time, from the conventional narrow space where that "is", towards a permanent freedom laboratory. The body in its naked existence dries up in individual parts in order to be reinvented. Identities are broken against the evidence of the irrational logic and fade away as sand slipping through the fingers. What is left is just a dream that, once awake, disappears irrevocably from consciousness.




Butoh Dance: Imre Thormann
Music: Luis Tabuenca




FRIDAY, 28TH NOVEMBER. 21 h

21.00 h
Tickets: 9€ / 7 € Espacio Tangente partners
Season ticket: until November 26 th: 25€
After November 26th: 30€ NO partners / 25€ Espacio Tangente partners

#LOS MICRÓFONOS
by Jorge Dutor and Guillem Mont de Palol
(Barcelona)
New body languages/Perfomance

Chenoa, Chenoa, Chenoa, Chenoa!!
Shakira, Shakira, Shakira, Shakira!!
Xuxa, Xuxa, Xuxa, Xuxa!!
Cher, Cher, Cher, Cher!!

In #LOSMICRÓFONOS we get immersed in a common universe – that one which is constantly around us: the Pop Culture. A choreography of names, songs titles and chorus where the performers suggest landscapes that allow the audience to enter into a field of oddness and digressions, of personal memories and wild associations, creating relationships among the different proposed elements. What's the Pop universe? What's Pop? What's the Universe, the universal?


Foto de Jacopo Jenna


Concept and Choreographi: Jorge Dutor y Guillem Mont de Palol
Performance: Jorge Dutor and Guillem Mont de Palol
Produced by Jorge Dutor and Guillem Mont de Palol and TNT Terrassa Noves Tendencies
With the collaboration of SpazioK, Azala, WSB Workspacebrussels, BUDA Kunstencentrum, Dans Hane Istanbul, Graner Barcelona and El Local
Dramaturgy assistance: Juan Dominguez


SATURDAY, 29TH NOVEMBER. 21 h

21.00 h
Tickets: 9€ / 7 € Espacio Tangente partners
Season ticket: until November 26 th: 25€
After November 26th: 30€ NO partners / 25€ Espacio Tangente partners

[APNEA]
by La Ortiga y Narcoleptica
(Offshored)
New dramaturgies

[ aPnea ] is a contemporary scenic piece. Fragile and disturbingly delicate. With experimental sound landscapes built in real time.

[ aPnea ] is a tour straight from the guts about how we build our identity, in that relations-tension with the social hegemony. A character about to make a decision.
When the breathing is the
most beautiful sound in the world
after silence,
when the jump into the void excites you
the de-construction is the only way out.

[ aPnea ] transcends the search of a personal, precarious and utilitarian identity, to reflect on its prostitution in the everyday life as a result of the post-modern being centered on the doing – that is, you cost as much as your productive activity. It reclaims its de-construction as a revolutionary, legitimate, politic, personal and historical act. It reclaims the non-being in order to be everything.

[ aPnea ] succumbs to the strongest force of nature, the inertia, placing the spectator in a moral conflict that makes her reconsider her position.
The piece considers the subtle distance between the social woman and the intimate woman and it's influenced by authors like Butler, Koldor and Despentes, among others.
[ aPnea ] goes trough three spaces:
A revived past, a furious present and a landscape of flammable future.

"This piece portrays society like a gun with silencer"

Programmed by the Trans Iberic Network of Cultural Spaces fruit of the collaboration between ZAPW Bilbao and Espacio Tangente




Creación y texto: La Ortiga
Paisajes sonoros: Narcoléptica
Ayte. de direccion: Beatriz Nieto
Dirección técnica y de arte: Koldo Jones




SUNDAY 30TH NOVEMBER. 20:30h



20.30 h
Tickets: 9€ / 7 € Espacio Tangente partners
Season ticket: until November 26 th: 25€
After November 26th: 30€ NO partners / 25€ Espacio Tangente partners

CIENCIA FICCIÓN


by

CRIS BLANCO


(Madrid)
New dramaturgies/Perfomance

Musci by Cristina Blanco and Rubén Ramos

Ciencia_ficción, is at the same time, in one go: a knowledge tournament, a conference, a master-class, a magic session – where you see a trick, a concert, a show which is many shows at the same time, that (still) don't exist, it's a night of thai food at the Big Bang Theory guys' flat… It's, all in all, a good time to reflect on the different ways of being on stage and approach that thing called Contemporary Performance.






Ciencia-ficción is a project by Cris Blanco
Music by Cris Blanco and Rubén Ramos
Support by Iberescena, Espacios Cómodos 010 de la porta, Al-kantara, La Casa Encendida, Espacio Práctico, el Local, el Aula de Danza Estrella Casero, el Local de la calle Azucenas
Thanks to Rubén, Pandelís, Miguel Magdalena, Elena Netalga, David y Afri, Vicente y Sandra, Quim y Edu, Aimar y Javier, tina paterson, André Castro, Txalo, Sergi y todos los teatroneros que han apoyado el proyecto en el blog
PLUS

BUTOH DANCE WORKSHOP
By Imre Thormann

Friday, 28th November: 16:00- 20:00
Saturday, 29 th November: 10:00- 14:00 y de 16:00-19:00
PLACE: Dramatic Creation Center LA PARRALA
C/ Las Infantas, 1 09001 Burgos
http://www.laparrala.net/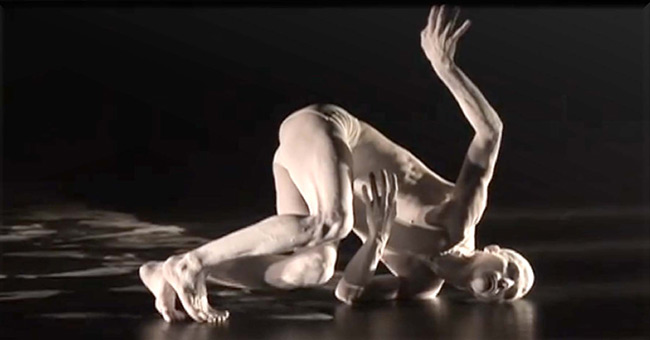 In my workshops I don't teach any form or fixed technique but the principles of movement: spiral, wave, gravity, emotion, etc. We will focus on the everyday movements like stopping or walking and on the emotional expression forms. We will set up a base which will allow us to exchange movement conventional patterns that will help us to do movements more easily.
My work is based on the training in Tokio during seven years with Kazuo Ohno (Butoh) and Noguchi Michizo (founder of Noguchi Taiso, a type of Japanese body work), on the Alexander technique training and on my experience as a dancer who is living off dancing.

Addressed: This workshop is both addressed to dance and theatre proffesionals and amateurs of all ages.
Number of participants: 20
Inscripciones: info@espaciotangente.net
Price: 75€ / 65€ Espacio Tangente and La Parrala partners
Payment: by cash at the Espacio Tangente (Monday-Friday: 18.30 -21.30) or a deposit in the following La Caixa account: ES80 2100 0455 1223 0002 3503
IMRE THORMANN

Born in Berna in 1966. He learns martial arts like Aikido, Kung Fu, Tai Chi and Taekwondo. He finishes his studies on Alexander Technique in 1990 and moves to Tokio to learn Butoh with Kazuo Ohno and Michizou Noguchi. He has performed as a soloist in Europe and Japan. In 2001 he creates the first Festival Now en Berna (Suitzerland) and Gdansk (Poland) with Shigeo Makabe. In 2002 he opens his own Butoh school in Tokio called "Bodygarage".

http://www.bodytaster.com


LUIS TABUENCA

Contemporary music international soloist, improviser and Spanish composer. He studied contemporary percussion at the California University in San Diego with Steven Schick and has been taught by Philippe Manoury, George Elie Octors, Christian Dierstein and the Ensemble Intercontemporain.
He collaborates with different artists and tours in Europe, Asia and America. He performs in festivals like the Münstersommer Summer Festival (Freiburg, Germany), Monday Evening Concerts (Los Angeles, USA), Newbury Spring Festival (Newbury, England), LUX Festival (Sevilla, Spain) or the Performance International Festival in Bogotá.

http://www.luistabuenca.com/

LA ORTIGA & NARCOLÉPTICA

Collective composed of Blanca Ortiga (La Ortiga), performer and Beatriz Vaca (Narcoleptica), sound artist. Their research deepens into the relationships between word and sound, trying to generate images and build ephemeral realities in the collective imaginaries. They have created two pieces so far: Texturas y cicatrices (2012) and [aPnea] (2013)

http://www.proyectolaortiga.com/


GUILLEM MONT DE PALOL Y JORGE DUTOR
collaborate since 2008.

Guillem studied at the SNDO (School for New Dance Development, Amsterdam), he is a choreographer and performer. He has worked with choreographers like Xavier Le Roy, Mette Ingvartsen, Frederic Gies or Vincent Dunoyer. Jorge studied at RESAD (Performing Arts School, Madrid) and has performed with artists such as Aitana Cordero, Sara Manente, Pere Faura and Aimar Pérez Galí. Working together they have developed two works: UUUHHH, Yo fui un hombre lobo adolescente inventando horrors and Y POR QUÉ JOHN CAGE? Their artistic interests are focused on language, voice and its physical dimension, the body, musicality and rhythm.



CRIS BLANCO

She graduates at the RESAD (Madrid) in 2002. Since then, she has worked as interpreter and creating her own work, as a soloist and in collaboration with different artists. In 2004 she presents the solo cUADRADO_fLECHA_pERSONA qUE cORRE, in 2006 caixa preta_caja negra with Claudia Müller, in 2008 she takes part in the project The Neverstarting Story, with Cuqui Jerez, Amaia Urra and María Jerez. She leads the music band the Elements and is a member of the artistic collectives the Club and las Calaveras de Cher ("Cher's skulls).